Event Announcement ~ St. Catharines Voodoo and Witchcraft Fair
Come and enjoy St. Catharines first ever Voodoo and Witchcraft Fair at the WAREHOUSE CONCERT HALL on Sunday June 24th!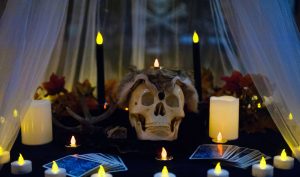 A unique day with exotic vendors specializing in spiritual supplies and curios
Integral diviners including tarot card and intuitive readers
Lectures and hands on workshops
Interactive voodoo ceremony on the Feast day of St. John the Baptist.
Featuring a close out concert by the globally acclaimed, award winning tribal music of Niagara's own Dragon Ritual Drummers!
Advance tickets $10.00, $13.00 at the door. Includes all day entry and Dragon Ritual Drummer concert
Ticket link
https://www.showclix.com/event/st-catharines-voodoo-witchcraft-fair
12:00 PM Doors open
1:00 PM Opening ceremony with Cat from Niagara Witches and Pagans, joined by the Blueraven Drummers and Dancers
2:00 PM Hands on workshop on hoodoo and conjure formula with Rev. Terrie of Beaux Magique
3:30 PM Lecture with featured presenter Rev. Tim Shaw; Author, paranormal experiencer, renowned medium, radio and TV personality
5:00 PM Interactive voodoo ceremony. Join Witchdoctor Utu from the Dragon Ritual Drummers, Niagara Voodoo Shrine and New Orleans Voodoo Spiritual Temple, along with a host of friends and family for a voodoo ceremony to celebrate the legacy of the Underground Railroad, through the mysteries of the voodoo baptismal and the crossroads of freedom.
6:30 PM Burlesque Bellydance Performance By Badra Goddesses
7:00 PM Dragon Ritual Drummers concert!
* If you would like to avoid any service fees or make a PayPal payment with the Dragon Ritual Drummers email, feel free to contact event host Utu to arrange to purchase a wrist band in person https://www.facebook.com/witchdoctor.utu
Sponsored by;
Cat And Monkey Events https://www.facebook.com/catandmonkeyevents/
Chad Champoux Photography http://www.champoux-photo.com/
Niagara Voodoo Shrine
The WAREHOUSE CONCERT HALL is a licensed venue, have proof of legal drinking age on hand in order to be able to purchase alcohol.