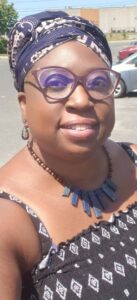 Rev. Terrie Brookins creates Change Between the Worlds at Beaux Magique. Using Naturally Magique oils, waters, herbs and other ingredients, Rev. Terrie wants you to shine BRIGHT  along with the power of the Earth, Sun, Moon, and Stars.
She enjoys singing, djembe drumming, and teaching Witchcraft and Tarot. She is a Witch and Priestess. Terrie is also a twenty  year Tarot veteran and Provincially Registered Lay Chaplain available for weddings. She is available for workshops, community and private ceremonies as well as  handfastings, and Baby Blessings. 
Please contact her at info @ beauxmagique.com

*** All information, content, and material of this website is for informational purposes only and are not intended to serve as a substitute for the consultation, diagnosis, and/or medical treatment of a qualified physician or healthcare provider. All products sold as curios.
Be sure to find us on Facebook,  Tumblr , or follow us on Twitter!