Resist Conjure Oil
$25.00
#RESIST Conjure Oil
***** PLEASE PROTECT YOURSELF AND FAMILY BEFORE USAGE*****
***** PLEASE CONSIDER USING OUR #NOTTODAY PROTECTION OIL BEFORE AND AFTER USAGE*****
Available on backorder
Description
#RESIST Conjure Oil
***** PLEASE PROTECT YOURSELF AND FAMILY BEFORE USAGE*****
***** PLEASE CONSIDER USING OUR #NOTTODAY PROTECTION OIL BEFORE AND AFTER USAGE*****
Looking to Hex the Patriarchy? Need to right the many wrongs and injustices in the world? Please use our #RESIST oil in your binding and crossing work.
While MOST of our oils are safe to wear, this one IS NOT! ****WASH HANDS AFTER USE****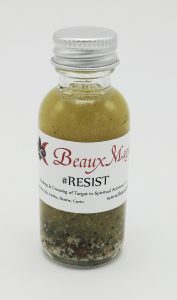 Thank you for reading! Please allow SEVEN business days to prepare your order. Remember, all shipping is expedited and includes a little lagniappe!
Be sure to sign up for the Beaux Magique spam free newsletter, find us on Facebook, Instagram , Google Plus, Pinterest, Tumblr, or follow us on Twitter!
Only logged in customers who have purchased this product may leave a review.