Welcome to 2016!
To get your year started right, here's an unheard of 25% off your total purchase when you spend $25 or more at Beaux Magique! Now is a PERFECT time to try out any item you've had your eye on! Tell your friends!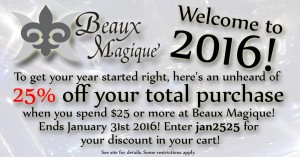 Ends January 31st!Enter jan2525 for your discount in your cart!
FINE PRINT: Coupon cannot be used in conjunction with other coupons. Does not apply to sale items. Coupon does *not* apply to shipping.  Coupon applies on total amount in cart.  Sale ends January 31, 2016 at 10 pm EST - no extensions. Contact us here: beauxmagique at gmail.com with any questions.
Be sure to sign up for the Beaux Magique spam free newsletter, find us on Facebook, Google Plus, Pinterest, Tumblr, or follow us on Twitter!
Please follow and like us: