Niagara Region Pagan Celebration – Celebrating Samhain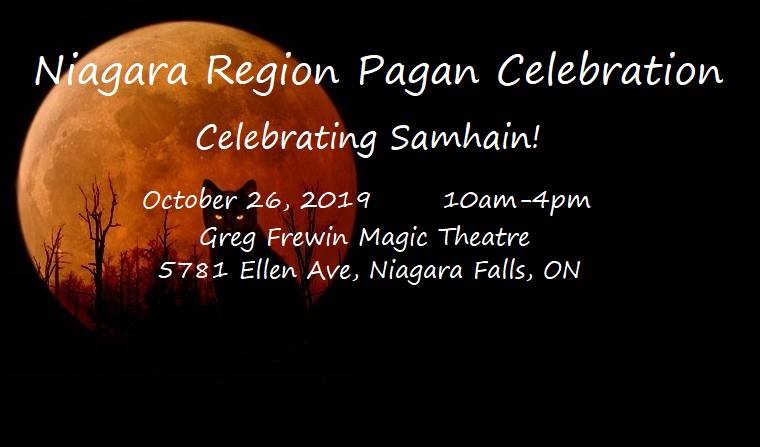 Niagara Region Pagan Celebration – Celebrating Samhain
Welcome to the second annual Niagara Region Pagan Celebration – Celebrating Samhain! Hosted by The Purple Pentacle.
Join us in our celebration of Samhain, also known as All Hallow's Eve and Halloween, and enjoy seminars and rituals, silent auction, pagan arts and crafts, drumming and music, good food and fun!
Please see our website for more information!
https://purplepentacle.wixsite.com/specialevents
Vendor spaces are available. Volunteers needed. Please PM Cara-Lee Henry for more information. https://www.facebook.com/caralee.arbour
***************************
Be sure to find us on Facebook,  Pinterest, Tumblr, or follow us on Twitter!
Please follow and like us:
Related upcoming events
2020-03-08 10:00 - 2020-03-08 16:00

Sudbury's Spring Holistic Healing Fair
March 8 2020 from 10 - 4
Free Admission
60+ Wellness Vendors
First 50 attendees get a Wellness Swag Bag!

The event will take place at the Caruso Club
385 Haig Street, Sudbury

The Holistic Healing Fairs were created to educate and inspire our local community to become more conscious of their daily habits. A place where everyone is welcome, judgment free. Come explore the many unique ways of healing - art expression, your own jewelry piece, a chemical free body lotion and so much more. All of our sponsors and vendors have the same outlook on life, to help make the world a better place. Come spend the day with us sharing helpful ideas, try something different and learn about the local amazing businesses right in your back yard.