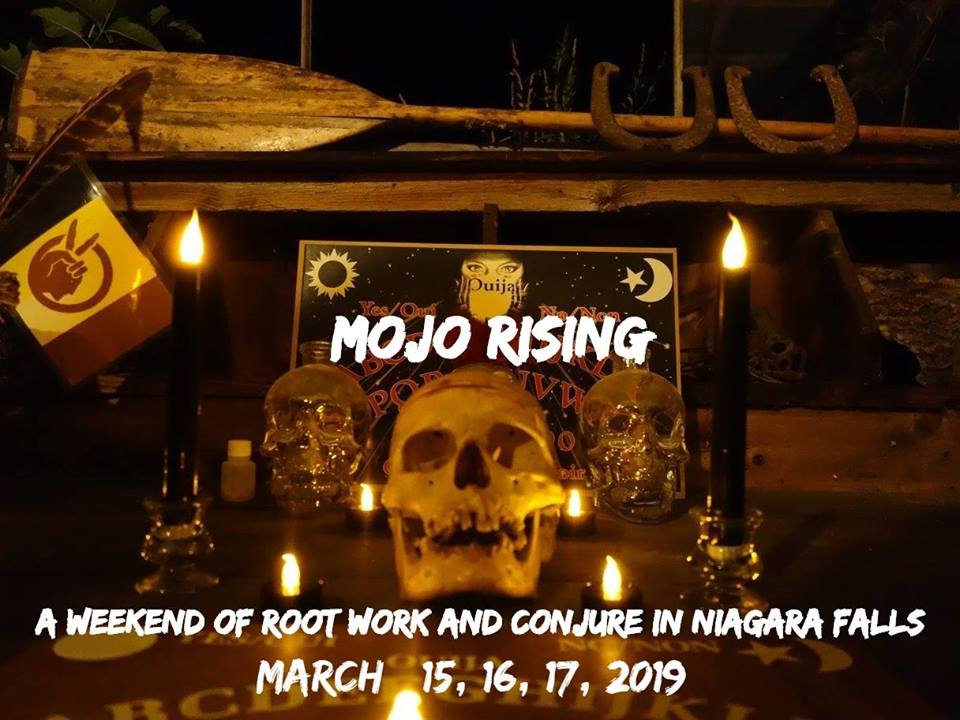 2019-03-15 - 2019-03-17 All day
Join Witchdoctor Utu, Rev. Terrie Brookins and Cat Thagard for a unique weekend of Root Work and Conjure featuring interactive ceremonies, hands on classes and formula, exclusive vendors and readers in Niagara Falls Ontario; the Gateway to Freedom.
The venue "Cat & Monkey Events" is mere blocks from the very river crossing that freedom seekers on the Underground Railroad used for the final steps towards freedom. Cat & Monkey, an intimate event venue with two levels and a special energy will be the perfect environment and back drop for the weekend.
Weekend Pass ($40.00) gains entry to all activities, access to vendors and select readers from Friday to Sunday. Daily passes ($20.00) also available, space is limited.
March 15, meet and greet, weekend introductory, light snacks provided, opening ceremony
March 16, hands on classes and workshops, main ritual, light dinner provided
March 17, classes, closing ritual
*each day features exclusive vendors akin to the event and select readers available for hire.
*Classes and workings will range from candle magic and setting lights, dressing and fixing them towards a purpose
* Home and spirit protection
* Animal spirits and curios akin to North American conjure
*Working with the Saints of hoodoo and conjure
* Exaltation and reverence of Harriet "Mama Moses" Tubman and the spirits of the Underground Railroad and much more…
*Readers, vendors and featured special guests will be announced closer to the dates for Mojo Rising.
Related upcoming events
2019-09-21 All day

Black Cat Witchcraft and Beaux Magique present....Tools of the trade: Enhancing your magick, A Beaux Magique Odyssey

New to the craft and Interested in learning about how to use tools of the trade.... oils, incense, washes and more in your magickal workings? Have products you're not quite sure on how to use? Experienced veteran and need to stock up on your magickal inventory? Then this is the workshop for you!

Come out and join Rev. Terrie Brookins of Beaux Magique and Cat Thagard of Niagara Witches and Pagans & Black Cat Witchcraft for this interactive Workshop on utilizing your tools of the trade.

In this Workshop you will learn how to use specific oils, sprays, washes and incense in your everyday magickal workings. This Workshop will also include some hands on work.

For your convenience All the products being used are available for purchase during the workshop.
Limited space available.
Be one of the first 10 people to sign up and receive your free swag bag.
Investment: $50 per person

Tickets available at Eventbrite https://www.eventbrite.com/e/tools-of-the-trade-enhancing-your-magcik-a-beaux-magique-odyssey-tickets-62056536772

Or through e-transfer to catandmonkeyevents@gmail.com

Be sure to find us on Facebook,  Pinterest, Tumblr, or follow us on Twitter!

2019-10-06 All day

Spirit of Colour

Spirit of Colour is a one day divination, presentation, workshop, and vending event for Spiritual Black, Indigenous, People of Colour and those who support them in collaboration with WITCHFEST North.

Please join us on October 6th at the Native Canadian Centre of Toronto for a day of learning and fun to support our BIPOC Spiritual community.
We invite members of the Spiritual BIPOC community to join us to offer presentations and workshops. At this time there are THREE spots available.

We also have space for vendors and readers. There are only 15 spots available. Spots are $50 which includes a chair, six foot table, and access to Wi-Fi. Space is limited! Please contact us soon!

To apply click the link
https://witchfestnorth2019.wufoo.com/forms/s1v29ygw12or8w8/
While we welcome applications from all interested in presenting, vending and divining, please note that BIPOC applicants have first consideration.

Rev Terrie Brookins of Beaux Magique
& Monica Bodirsky of WITCHFEST North

Be sure to find us on Facebook,  Pinterest, Tumblr, or follow us on Twitter!

2019-10-26 10:00 - 2019-10-26 16:00

Niagara Region Pagan Celebration - Celebrating Samhain

Welcome to the second annual Niagara Region Pagan Celebration - Celebrating Samhain! Hosted by The Purple Pentacle.

Join us in our celebration of Samhain, also known as All Hallow's Eve and Halloween, and enjoy seminars and rituals, silent auction, pagan arts and crafts, drumming and music, good food and fun!

Please see our website for more information!
https://purplepentacle.wixsite.com/specialevents

Vendor spaces are available. Volunteers needed. Please PM Cara-Lee Henry for more information. https://www.facebook.com/caralee.arbour

***************************

Be sure to find us on Facebook,  Pinterest, Tumblr, or follow us on Twitter!