Wholesale & Retail Polices
We'd love to have our products in your store! Here are our Wholesale & Retail Policies:
1. Sales: All sales are within select countries. Please see your countries import laws for further information. We are not responsible for confiscation of restricted items.
2. No consignment. While this may be the standard procedure for artisan items, we cannot obtain the materials to make our products without funds. Thank you for your understanding.
3. Wholesale Orders. Please contact us for our wholesale prices. There is a $250 minimum investment for full size items. Shipping and handling is priced separately depending on weight and the dimensions of the packaged order. Once purchased, you may sell the product for any price you wish. Please note that due to shipping costs, it may be cheaper to request the online sizes for sprays. Water is heavy!
4. Beaux Magique Days. All in store presentations must be booked at least one month in advance. Items that your venue may not have in stock will be available for purchase during this time. We suggest that you contact us to negotiate the breakdown of the day's sales.
5. Limited Items. We reserve the right to discontinue any product at any time. Those reasons may be as simple as low sales, negative reviews or unobtainable supplies and materials.
6. Changes. We reserve the right to change our retail policies and catalogue at any time to better serve the needs of our business and our customers.
Please email your wholesale request to beauxmagique@gmail.com to receive our latest sell sheet and discount breakdowns!
RTB 2019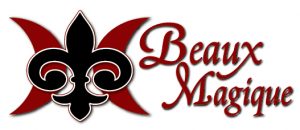 ***All information, content, and material of this website is for informational purposes only and are not intended to serve as a substitute for the consultation, diagnosis, and/or medical treatment of a qualified physician or healthcare provider. All products sold as curios.
Be sure to find us on Beaux Magique on Facebook, Pinterest or follow us on Twitter!